You want to make a reservation? Two possibilities: either by calling one of the two numbers below or by completing the form. In this latter case, we will contact you to confirm your reservation.

You can now check the availability of our rooms, and book your stay online by clicking the button below.
General Conditions: a deposit amount of 30% will be requested on reservation and the balance at the end of the stay. We reserve us the right to retain the deposit for any cancellation occurring less than 24 hours before arrival.
VISIT LE MANS
Explore Le Mans and its surroundings through history and sporting events.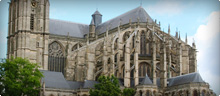 The "Demeure de Laclais" day by day
Follow the latest news from on our Facebook page.